Immediate Steps to Take When You Have a Water Leak
Everyone at some point in their lives will experience and have to deal with a water leak in their home. It is one of those inevitable things that is bound to happen at least once for a home owner or renter. In fact, water damage due to water leaks is quite common and can be found in many homes and apartments. Read on to find out what to do when a water leak strikes.
Act Quickly
When you discover a leak you'll want to act quickly in order to avoid any costly damage and repairs. In some cases, that will be unavoidable. However, most leaks discovered early will have caused minimal damage. The first thing you will want to do when you discover a water leak is to shut off the water to whatever appliance it is leaking from. If there are any electronics nearby you will want to immediately unplug and or remove them. In some instances, shutting off the circuit breaker may be necessary.
You may also have to turn your main water valve off at the source. Keep in mind that this could be located in your garage, your yard, or even offsite somewhere.
Call the Professionals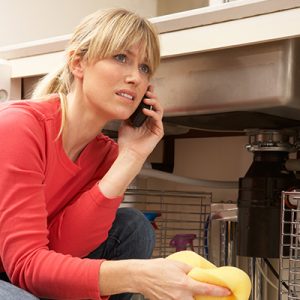 Your first phone call should be made to a qualified and licensed plumber. The sooner you can get the leak repaired and the water back on, the better. If you suspect that there has been any electrical damage due to the leak, you should call a licensed electrician to inspect and repair any electrical damage there may be.
Lastly, if there is significant pooling of water caused by the leak you will need to call a water removal professional. While waiting on the professionals to arrive take the time to clean up as much of the water as possible, and if the leak hasn't stopped put a bucket underneath it. It is important that you ensure that the leak and any damage caused by it is repaired by a licensed professional. If not, you risk sustaining more damage to the home and quite possibly major safety hazards.
In the event of a water leak in your home, don't panic and don't procrastinate handling it. Give your qualified local plumber a call and rest easy knowing that all will be resolved with professionalism and a quality guarantee.